Introduction to Abstract Acrylic Painting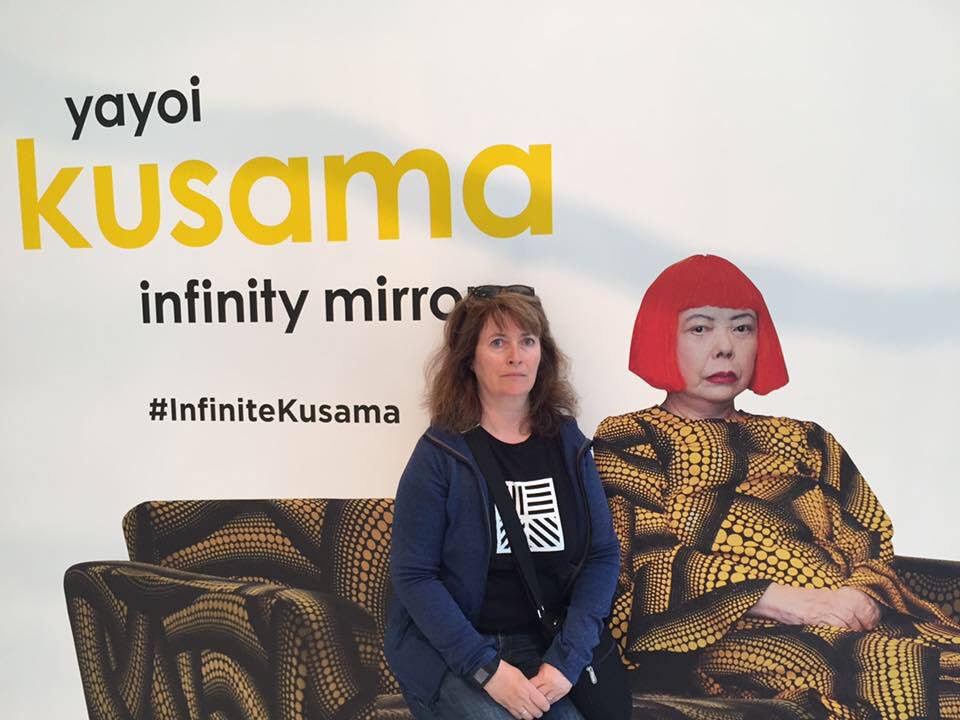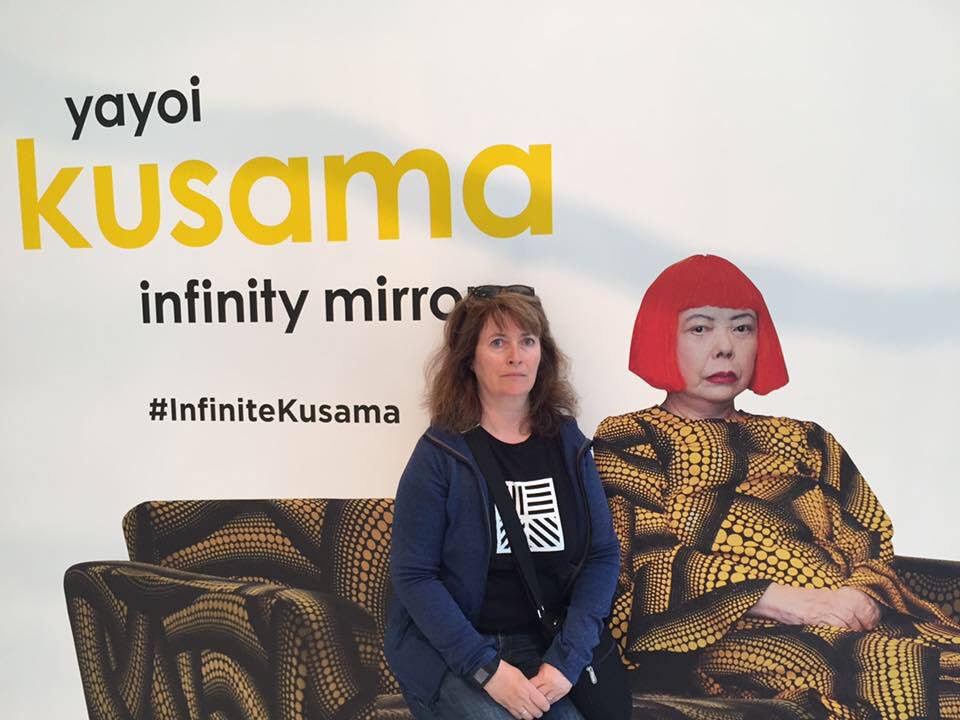 Introduction to Abstract Acrylic Painting
Inspired by Yayoi Kusama with Sarah C.B. Guthrie, MFA
Friday, October 18, 10am-12pm
Led by professional artist and artist coach, Sarah C.B. Guthrie, MFA (pictured here with Yayoi Kusama's artwork), this course will take you through some basics of mixing colors--including Yayoi's uplifting and energizing palette--and get you comfortable using different brushes and markers to make patterns reminiscent of Yayoi's paintings. Participants will have fun getting comfortable with these tools and paints and then create their own version of a seasonally-appropriate pumpkin painting in the style of Yayoi Kusama.
Sarah's introduction to abstract acrylic painting classes are inspired by artists who are underrepresented in museums, catalogs, and art history books, but who, more recently, are gaining attention and changing the art world. Working with fun, easy to clean and use acrylic paint, participants will get a little insight into art history and painting processes while learning some of the basics of abstract painting.
Who is Yayoi Kusama? Yayoi is a contemporary Japanese artist working across painting, sculpture, film, and installation. She has produced a body of work unified by its use of repetitive dots, pumpkins, and mirrors. Instructor Sarah was lucky enough to see Yayoi's exhibit at the Seattle Art Museum and shared, "I got deliciously lost in all her patterns and the way in which she created new worlds and spaces. Yayoi said her work is designed to make the world better by spreading love and bringing people together and that is so inspiring and motivational."
This workshop is for beginners or experienced artists--anyone interested in learning more about acrylic abstract painting.
This class includes:
Sarah's professional instruction on acrylic painting technique and some foundations of color mixing and abstract composition

Your completed abstract acrylic painting in the style of Yayoi Kusama, as well as your color mixing sheet

All the brushes, paint, and other supplies needed to complete your project in class.

A supply list with Sarah's favorite art supplies, brand, where to find them, and how to set up your space so you can practice at home.

A bio about Yayoi Kusama and images of her work.

Bonus: Sarah's Top 5 Tips for creating a daily art practice.
Cancellation policy:
The purchase of this class is final, however if something comes up and you cannot make it, you may find a replacement for your seat. Please email hello@studiolifeseattle.com with your replacement request. StudioLife reserves the right to cancel or change workshops. In the rare event of cancellation, StudioLife will provide a full refund.
Photos and video may be taken and used in social media and on our website during this workshop.